Over here at the Freshman Fifteens most of us have completed deadlines for our first books. Those initial crunch times were fraught with trying first-timer experiences and fears of whether we could really, truly turn our beloved manuscripts into real, live books. We gladly let our deadlines turn us into crazy monster-beasts (or, wait, was that just me?)  in our quest to impress our new editors.
Now, as most of us round upon our deadlines for book 2, we're still crazy, but we at least know what to look for and what to expect when it comes to morphing into monster-beasts. After all, self-awareness is the first step toward personal evolution, am I right? I'm writing to you on Day One of my next deadline when I can just feel the cusps of my monster-beast horns beginning to sprout from my soon-to-be oily head and I can see the signs of what's to come.
So without further delay, here are 5 signs that you're on deadline:
(1) You are wearing your deadline sweatpants. These are not normal sweatpants. Oh no! These are special sweatpants that only come out when all shame has gone out the window. These have holes and are three sizes too big and drag on the floor when you shuffle off the couch for another glass of tea and Oreo cookies.
(2) You can't see your sink faucet anymore because the dishes are piled so high. Does your kitchen look like a war zone? Are you stuffing another pizza box in an already full trashcan so that you don't have to take the trash out? Yes? Well, then signs are good. You are probably on deadline.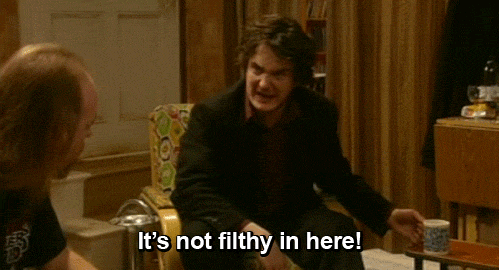 (3) You have given up any semblance of a beauty regimen.  People might think your hair is wet. Let them. Only you have to know it's just greasy. And hey, so what if yesterday's eyeliner has wound up somewhere above your eyebrow? You could be starting the next trend to follow the cat eye. You never know. Besides, no one is around to see you anyway. You "misplaced" your Fitbit for the duration of the deadline and count walking to and from the Oreos as adequate, if not downright rigorous, physical activity for the day.
(4) You are having a meltdown.  The Meltdown is the surest of the surest signs that you are in the midst of a deadline. The Meltdown builds and builds until you know you can no sooner stop it from coming than you could plug the Hoover dam with your pinky finger. Personally, I generally have only one Meltdown per deadline. There are other meltdowns, but those are different. Those can happen in really bad traffic on my way home from work. You'll recognize the Meltdown by looking in the mirror and finding a reflection of your ugly cry face. Try not to flinch. It only makes things worse.
(5) You are awake at 3 AM. You are not in college. You have not been drinking even though your eyes are red and bloodshot and you are talking nonsense. You are continuously coaxing yourself, "Just this one more thing I have to do then…" And now you know, this is the end of the deadline and you are in a full-on, manic sprint to the finish. I can do this one, maybe two, nights before I must sleep like I am literally dead. It is even less pretty than the Meltdown.
The truth is, nobody would indulge this sort of craziness for anything less than a passion and it's because we love what we do so much that we're willing to let this thing that we love consume us for a few weeks or a few months at a time. It's simultaneously the worst and also the best but, in the end, it's so so worth it.
Tell us: What are your signs that you're on deadline?
Chandler Baker is a twenty-something lawyer, author of young adult and middle grade fiction, and dedicated nerdfighter. She graduated law school from the University of Texas in Austin and undergraduate from the University of Pennsylvania. Fun fact: Chandler graduated early so she could take time off and try her hand at this whole writing thing. So far, so good. Chandler likes morbid facts, watching scary movies through her fingers, Thai food, Eminem, and very high heels.

You can find Chandler online: Website | Twitter | Goodreads